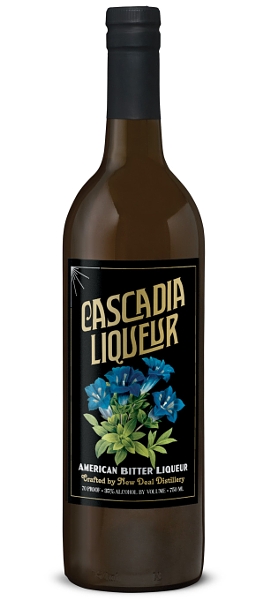 Inspired by the Pacific Northwest.
Cascadia d'Amore American Bitter Liqueur is New Deal's Pacific Northwest interpretation of traditional European herbal liqueurs, inspired by the flora found in the Cascade Mountain Range. This bittersweet liqueur is the first product of several years of experimenting with pure, whole, natural, culinary-quality ingredients.
Distilled with love in Portland. Handmade in small batches in Portland, Oregon. Distilled infusion of rose petals, wild lavender and other carefully selected, whole dried botanicals finished with a gentle maceration of gentian (the blue flowers on the label) and angelica root.
Sophisticated, layered, and aromatic with a delicate floral body and a long bittersweet finish.
Enjoy as a unique aperitif sipped neat or on ice. Add Cascadia d'Amore to sparkling wine for an inspired spritz.
EDIT THIS New Deal Coffee Liqueur.
Suggested Cocktail
Negroni Blanc
1.5 oz / 45 ml New Deal Portland Dry Gin 33
0.75 oz / 22.5 ml Cascadia d'Amore
0.75 oz / 22.5 ml Cocchi Americano
1 Dash Scrappy's Orange Bitters
1 Dash Scrappy's Aromatic Bitters
Fresh Lemon
Stir all ingredients in a mixing glass with ice then strain into a chilled coupe. Squeeze lemon zest over cocktail and garnish with a lemon peel.
Selected Reviews
Light gold color. Herbal, complex aromas and flavors of turmeric soda, cardamom, coriander and caraway, and incense with a satiny, vibrant, moderately sweet body and a peppery, complex, long gentian, juniper honey, and camphor and menthol finish.
RATING: 86 points (Highly Recommended). Beverage Testing Institute, International Review of Spirits.
Craft Spirits, Bitters, Beer, Cider & Elixirs from the Pacific Northwest​